Information for Potential Sponsors



If you start looking around at other states, a good and inclusive regional cycling event calendar is pretty hard to find. In fact I have never seen one that lists all cycling related events in a given region. Texas, for instance, has a good tours calendar (Wheelbros) but they don't list all the USAC races, or mountain bike races, or triathlons, etc. Those are all on separate calendars. Getting the information I am providing for Texas would put you going to a couple dozen calendars, websites, and Facebook pages.
I have been maintaining the www.nmcycling.org calendar for about three years as a volunteer. I started doing it just to have a reliable calendar for the races I am organizing.



AD SPOTS WITH THE CAROUSEL, BCD RACES, AND SOME OTHERS ARE STILL AVAILABLE. ANY SPOT MAY BE AVAILABLE, JUST ASK

.




Some questions you might have:




(The big one.) How much is this going to cost?


There are will be about 13 ads on the calendar page. Calendar locations will be sold on a first come first served basis, and will stay in that location for a year. I am going to try to do my ads around December/January each year. If you buy an ad mid year we may be able to work out a pro-rated partial year.
We will also rent ad space by the month at $20/mo. Banner ads are priced as follows. This is based on how much traffic each month/page gets. The average price is about $100. Prices are per year.


| | | |
| --- | --- | --- |
| Jan 2020 | $110 | |
| Feb 2020 | $90 | |
| Mar 2020 | $110 | |
| Apr 2020 | $110 | |
| May 2020 | $110 | |
| Jun 2020 | $110 | |
| Jul 2020 | $110 | |
| Aug 2020 | $100 | |
| Sep 2020 | $100 | |
| Oct 2020 | $90 | |
| Nov 2020 | $80 | |
| Dec 2020 | $80 | |
| Jan 2021 bottom of page | $80 | |
| Group Rides, Road Routes | $75 | |
| MTB routes, Links, Flat Protection. | $50 | |

Ads on non-calendar pages on nmcycling.org (like the Group Rides page) get two insertions, one at the top and bottom of the page. There is less traffic to those pages, but there will be only one ad, yours, with no competition. You can chose which page you want.

We have to charge tax 7.875%, sorry. You can pay via cash, Square, my new Square Online Store, or by mailing or dropping a check to Buffalo Composite Designs, 4214 Mesa Grande Pl SE, Abluquerque, NM 87108. Ads are inserted for the calendar year Jan-Dec. If you buy an ad mid year we may be able to work out a pro-rated partial year. I usually make a calendar in December for the next year. If you pay in December, you get that part of December free and are only charged for the year beginning on January 1.
If you want to use the Square Online Store, let me get you an invoice first. Then press "Shop Now" and enter the amount as a "donation" on the site.



What do I get for that, directly?


A banner ad, 946 X 70 .gif files are preferred as they are small and load quickly. Example below:







What do I get for that, indirectly?


A professionally maintained calendar. This helps people find out about events, some of which your business may be spending money sponsoring. A paid position is going to keep this more consistent. Over the previous years this has job been passed along from one volunteer to another with considerable inconsistency in what the calendar listed, and in how well it was kept up to date.



Can my bike shop sponsor the calendar?


Certainly, and we would be glad to have you, there are a several local bike shops sponsoring us as of December 2019. They are pitching in $100-200/yr, but I would be happy with any contribution. However, all bike shop sponsors will be anonymous. I want any shop in our region to be able to recommend our calendar without feeling like they might be sending business to another shop. As far as local bike shops are concerned, I feel that the state calendar must remain neutral. I am also are not going to take sponsorship from any bicycle industry entity that is tied to a specific local shop. So Shimano or Crank Bros are ok but Specialized or Trek are not. If Specialized sponsors an event and are on the event ad that would be ok, but not as a stand alone sponsor. Bike shops will not be on event ads. We will take ads from events that are sponsored by a local shop, the shop just cant be on the ad. I do not see any other way to do this and have the calendar function as it should.



Who can purchase a banner ad?


Basically anyone, with the following restrictions: We will not take ads from bike shops or bicycle companies as defined above. Neutral bike companies are fine. Ads from non-cycling related businesses and entities are fine. We do not accept political ads of any kind either from canditates, lobbies. PACs etc. We also do not accept ads connected with the adult entertainment industry, dangerous products like tobacco, or any other ads even vaguely of that nature.



How is this calendar being maintained differently now than in the past?


In the past the calendar just listed the events from the NMBRA annual meeting and whatever was sent to them. Also at some times the calendar only listed USAC races and established tours. I have been scouring regional calendars, websites, and social media to find all the events I can. I also am listing all cycling containing events including triathlons, duathlons, adventure races, alleycats, meetings, bikeswaps, etc. I am not doing BMX for now, that is kind of its own world. I have probably 4X the events listed now than have ever been listed previously. Also listing requests by race organizers sometimes were not always entered quickly. I usually update same day, or within a few days at most.



How many people look at the calendar?


My server uses a system called Webalizer to record traffic. I average about 7300 visits/mo in 2019. Visits is every time a new computer (actually a new IP adress) looks at the site. I have to be honest here and say that how many of these are actual humans and how many are bots is impossible to say. From what I can find about 30% is a decent number, which would put me at about 2000 human visits a month, or about 70/day. My server uses Webalizer which by most accounts reads high. If you are used to looking at these, I am posting them below, note that December is incomplete.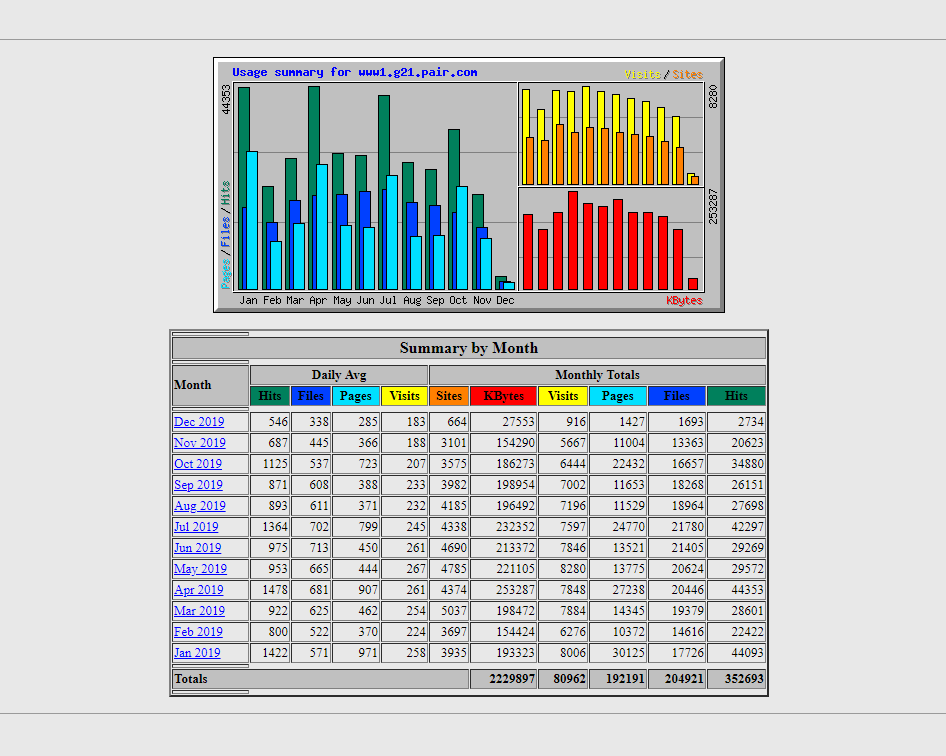 Why sponsor the nmcycling.org calendar and not someone else?


Well, for now I am the only one doing something like this. I am not the world's greatest web programmer by any definition, but I think the site is OK. It is nice and clean. My general philosophy on the web design is to keep the whole calendar on a single relatively simple .html file that loads very quickly. Right now it is a measly 139KB, which loads pretty much instantly on a modern desktop. You do have to scroll down to your month, but that is not very hard.
If someone else wants to jump in and compete with me, it is a free country and they are welcome to do so. I will cross that bridge if it presents itself.



What about ads for your own races or other stuff?


I allow myself one ad spot for one of my races, one for BCD, one for my brother, and a few for the carousel or misc other non-cycling stuff. I feel like a little of this is OK, but I am not going to spam the calender with it. To some extent the non-cycling ads are just place holders until I get more advertisers so that every spot doen't say "visualize your ad here." If anyone wants to buy the any spaces that I or my family have up, I will yeild the location to them, and move or remove my ad.




Contact hawke@bcdracing.com or call 505-259-6885



Updated 01/16/20