Information for Potential Sponsors


I would like to make this site into a cycling business community calendar cooperative. Under this model, a relatively large number of cycling businesses would buy a relatively inexpensive ad on the calendar. This would allow me to keep the calendar up in a consistent and timely manner. What I do not want to have is a calendar sponsored heavily by one or just a few members of the cycling business community. With a lot of smaller sponsors, no one bike shop feels that the calendar is just sending people to someone else's shop. In my opinion, the businesses, the race organizers, and the riders would be best served by a very neutral community-based cycling calendar. Shops will be limited to just one ad, so that bigger shops cannot "spam" the ads. Races, other events, or anyone else, can also buy ads, but just one per event or business.

If you start looking around at other states, a good and inclusive regional cycling event calendar is pretty hard to find. In fact I have never seen one that lists all cycling related events in a given region. Texas, for instance, has a good tours calendar (Wheelbros) but they don't list all the USAC races, or mountain bike races, or triathlons, etc. Those are all on separate calendars. Getting the information I am providing for Texas would put you going to a couple dozen calendars, websites, and Facebook pages.

I have been maintaining the www.nmcycling.org calendar for about two years as a volunteer. I started doing it just to have a reliable calendar for the races I am organizing.

Some questions you might have:



(The big one.) How much is this going to cost?


I am thinking about around $10/mo. If you think this is prohibitively high for you, email me and let me know.



What do I get for that, directly?


A banner ad, 160X130 pixels. Banner ads will be randomly placed running down one side of the calendar. We will reshuffle them every six months. Plus sponsors get one shamelessly commercial event listing for your business in the calendar during the year. A sale, a demo day, or whatever. If a shop organizes a race, or if a shop hosts another organization's bike swap or party, like the Duke City Wheelmen's bike swap at the Trek Store, that does not count as their commercial event listing. Ads will be in a long line down the left hand side of the calendar.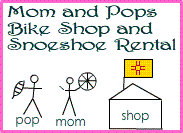 Sample 160X130 ad, perhaps needing some graphic design help.



What do I get for that, indirectly?


A professionally maintained calendar. This helps people find out about events, some of which your business may be spending money sponsoring. Riders who are doing more events are more likely to buy more bikes and accessories. A paid position is going to keep this more consistent. Over the last years this has job been passed along from one volunteer to another with considerable inconsistency in what the calendar listed, and in how well it was kept up to date.



How is this calendar being maintained differently now than in the past?


In the past the calendar just listed the events from the NMBRA annual meeting and whatever was sent to them. Also at some times the calendar only listed USAC races and established tours. I have been scouring regional calendars to find all the events I can. I also am listing all cycling containing events including triathlons, duathlons, adventure races, alleycats, meetings, bikeswaps, etc. I have probably twice the events listed now than have ever been listed previously. Also listing requests by race organizers sometimes were not always entered quickly. I usually update same day, or within a few days at most.



How many people look at the calendar?


Conservatively, I probably got about 2000 human visits a month, or about 70/day. My server uses Webalizer which by all accounts reads high. Actual "visits" for July 2017 on Webalizer were 9713. From what I am reading, actual humans are about 20-25% of these.



Why you and not someone else?


Well, for now I am the only one doing it. I am not the world's greatest web programmer by any definition, but I think the site is OK. It is nice and clean. My general philosophy on the web design is to keep the whole calendar on a single relatively simple .html file that loads very quickly. Right now it is a measly 15KB, which loads pretty much instantly on a modern desktop. You do have to scroll down to your month, but that is not very hard.
If someone else wants to jump in and compete with me, it is a free country and they are welcome to do so. I will cross that bridge if it presents itself.

Contact hawke@bcdracing.com or call 505-259-6885